Zara owner Inditex's spring-summer 2023 collection has flown off the shelves over the past six weeks, the fast-fashion retailer said on Wednesday, in a sign that sales are keeping pace after a strong 2022.
Inditex has extended its lead over Swedish rival H&M, in part thanks to a less price-sensitive customer base. As the cost of making garments increased, H&M took a profit hit while Inditex was able to pass on costs to shoppers.
"Inditex has gained market share because the others have fallen by the wayside," said Ann Steele, portfolio manager at Inditex investor Columbia Threadneedle Investments. "They are executing incredibly well, their margins are amazing."
But higher expected capital expenditure for 2023, at 1.6 billion euros ($1.69 billion), surprised investors. Inditex shares fell 5%, in line with Europe's STOXX 600 retail sector index, as bank solvency fears hammered European markets.
Shrugging off the share price fall, Inditex CEO Oscar Maceiras told reporters: "Our focus is on the long-term market, and we are very confident in our ability to grow in the future."
Maceiras, who took the top job in late 2021, said it had been a year of "great intensity" since Marta Ortega replaced her father – Inditex founder Amancio Ortega – as chair of the company.
Inditex's profit jumped by 27% in its financial year to Jan. 31 as sales exceeded pre-pandemic levels. In-store and online sales rose 18% to 32.6 billion euros ($34.99 billion) and were 15% higher than in 2019.
A rapid pace of sales continued in the first six weeks of the 2023 financial year. Excluding Russia and Ukraine, where Inditex stores have been closed since the nations' conflict began, sales between Feb. 1 and March 13 were up 17.5% from the same period a year earlier.
Inditex announced a 29% dividend increase to 1.20 euros per share.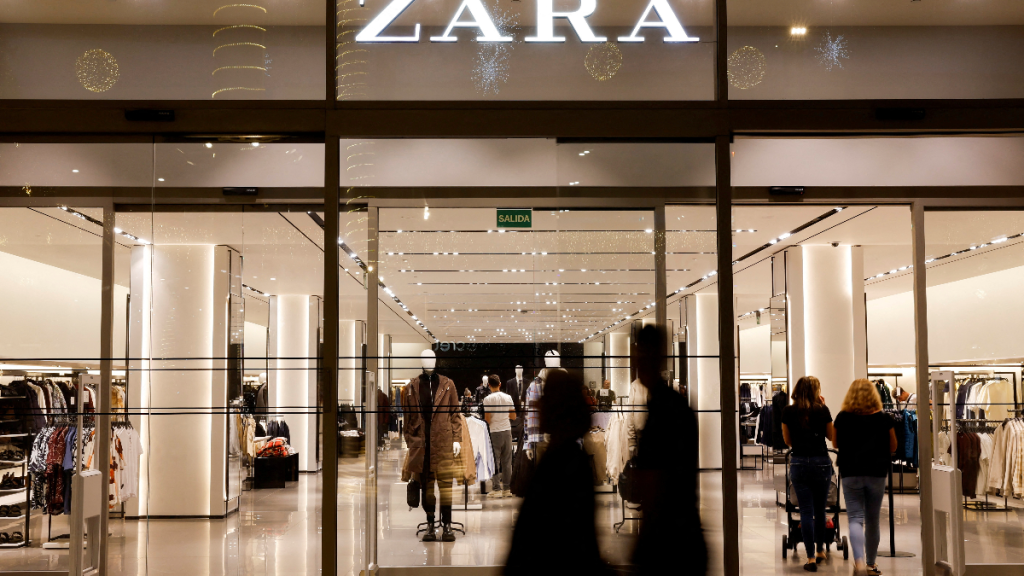 TAGS OUT, CHIPS IN
Maceiras defended the company's planned increase to capital expenditure, telling analysts it is "the right thing" to keep investing for future growth.
Some of the cash will be spent on further expansion in the United States, with 30 new Zara projects planned from 2023 to 2025, including bigger stores in New York, Chicago, Miami and other cities.
Inditex also said it would invest in automation at its distribution centres in Spain and start phasing out hard anti-theft tags in stores this year. The tags will be replaced with chips sewn into garments, which the company says will cut checkout times by up to 50%.
Inditex has been shutting smaller shops to focus on bigger stores in prime locations with some success. Full-year store sales grew by 23% despite store space decreasing by 6%.
The retailer plans to expand Zara stores on the Rue de Rivoli in Paris and in London's Stratford mall as well as a Bershka store in Milan's Vittorio Emanuele shopping gallery.
China, however, was "very challenging" because of COVID-19 restrictions, Maceiras said. Inditex closed stores in mainland China at double its average rate, shutting a fifth of its shops there in 2022.
Inditex executives are due to meet analysts and investors in London on Thursday.
($1 = 0.9488 euros)
---
A CORUÑA, Spain (Reuters)
Inside Telecom provides you with an extensive list of content covering all aspects of the Tech industry. Keep an eye on our News section to stay informed and updated with our daily articles.