Shaffra Technologies opens doors to Metaverse-as-a-Service for businesses. In an exclusive interview, CMO Chief Metaverse Officer Alfred Manasseh shares insights into their transformative approach. Going beyond marketing, Shaffra focuses on B2B applications, delivering immersive experiences and virtual environments. Their goal is to positively impact businesses' bottom lines through seamless integration and enhanced operations. With a clear vision, Shaffra differentiates itself by educating customers on the true potential of the metaverse. Unlocking new frontiers, they simplify the process and empower organizations to thrive in this harmonious blend of reality and virtuality.
---
Dubai, UAE – In a recent exclusive interview at SEAMLESS Dubai 2023, Shaffra Technologies Labs' visionary Chief Metaverse Officer (CMO), Alfred Manasseh took Inside Telecom on a journey into the future of the e-reality of the company's approach, diving deeper and deeper into Shaffra's mission, and what the true essence of their vision.  
When we asked Alfred about his idea of the metaverse, the answer was not confined to the limitations of simply explaining the basic form of the metaverse, but rather explaining it as an emerging market. Where it stands today, "the metaverse is a very new theme," the CMO expressed. 
"So let me tell you what we do and how we differentiate ourselves from regional and global players alike." And that's how Manasseh's story started.
"It's an emerging market. So, there's a lot of education that needs to be done in the market in terms of fully understanding its needs. Unlike common belief, the metaverse goes beyond brand recognition, and even beyond marketing."
Now, for someone intrigued by the concept – and the technologies – that accompany the idea of the metaverse and its virtuality, I want the public to know, where the 'does not' notion come from.
True, the metaverse is not only a marketing gimmick.
Metaverse-as-a-Service Mastery 
Its offerings go beyond what is commonly presented to us online. But hearing it from the CMO of a rising company means having an inside look at what the metaverse truly means for businesses, directly from the mind of a metaverse technology creator. 
"What can a company do in a metaverse?" I asked.
"Ah," he expressed. "What can a company do in the metaverse? Other than being there and saying 'Yes, we have a metaverse presence,' we, as Shaffra, deliver on the possibility of targeting the large corporates, such as companies, businesses that have the budget and already have a strong will to have a metaverse presence."
"So, we are a metaverse-as-a-service company, but in that sense, we are not an agency. So, we are a deep technologies or pure technology company where we built our own technology and we're leveraging it for businesses to enter the metaverse or to create a virtual environment, or immersive environment," Alfred told Inside Telecom.
"Where we come in is really focused on the following: what are the business use cases? How can businesses benefit from a metaverse presence or a virtual environment or an immersive experience? In terms of business operations, employee interactions, customers interactions.
Ultimately our goal is to touch the bottom line, and positively touch the bottom lines of those companies. So, once again, in that sense, we're very focused or purely focused actually on the B2B aspect of the metaverse. For now, we have a Clear Vision in front of us," he added.
It is no secret that where we stand right now, be it as tech enthusiasts, fanatics, or even just newly risen fans of the digital world, everyone now knows the concept of the metaverse. The metaverse has become the talk of the town, and Shaffra has uncovered a new understanding of the virtual world's potential, not only to transform businesses but more accurately harness companies' full potential to unlock new powers for tangible and meaningful outcomes.
"Now, normally, the way it works is that when we come in, we're usually seen at the beginning as another metaverse agency. And that's where we need to start educating the customer and businesses alike that no, actually, anyone can benefit from this virtual world. Beyond its marketing offerings," Manasseh highlighted.
Setting the Bar in Metaverse Differentiation
So, now. Mid-interview, my mind has already established the idea that Shaffra's commitment lies beyond what meets the eye. The company is a defender of the endless possibilities of the metaverse.
A commitment that lies in showing that the metaverse is also a beneficiary tool that can, and will, help businesses embrace a new virtual journey, and unleash transformative potential to enhance companies' operations.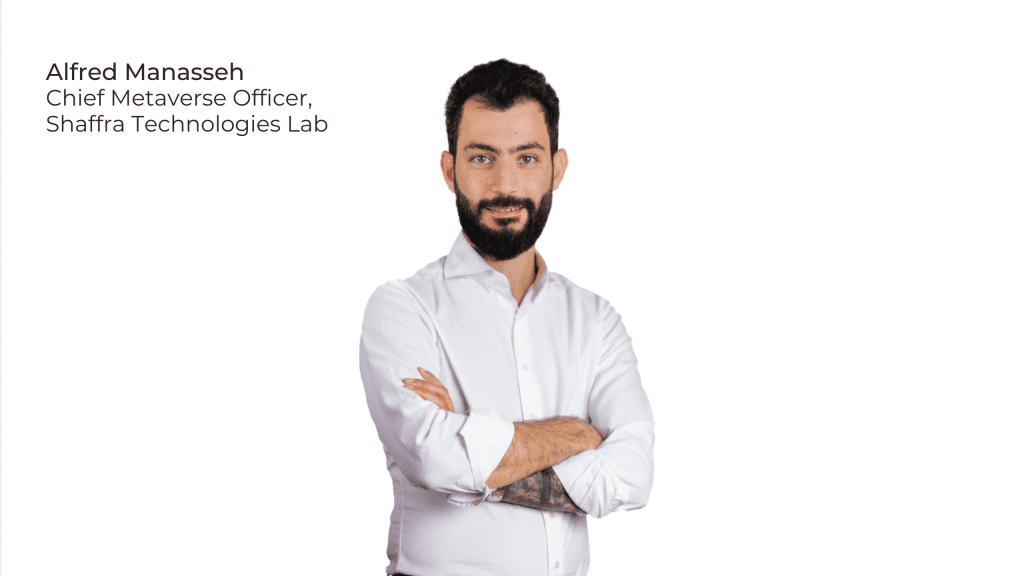 But "will Shaffra be able to do so?" I asked. "How is Shaffra trying to distinguish itself from the stigma where companies may consider you like any other agency?"
"I mean, at the end of the day, your company is developing the technology that delivers the metaverse-as-a-service," I added. 
"Exactly," the CMO expressed.
"Again, as I was saying. It all comes to delivering the needed educational part when we have our sales pitches. So, we try to educate the customers. Such as, what can they gain out of a metaverse? And usually, the way we do it is by understanding what their business issues are and what they are facing. Other than wanting a marketing strategy or penetrating a certain market."  
"So, imagine a telecom company. Usually, as a customer, your journey is either through the phone or through their website, or even in person where you usually go to the physical location. It's a set of specific things that you want to do and a specific set of problems that you might encounter as a customer.  There is a certain set of problems that you might face. You lack data, internet speed is not good enough, etc., etc. I mean, there is quite a limited scope in terms of the problems. What we are doing here is we're telling the telecom company, let's make your customer journey more seamless – it's a good wordplay, especially since we're at the seamless event. But basically, we're making the interaction of services more dynamic." 
So, with the understanding that every organization can be tooled with the possibility of navigating the metaverse landscape with confidence and purpose, ultimately positive impact on their bottom line, I expressed, "So, in a way, you're just simplifying the process for everyone."
"We're simplifying the process, yes. And that's exactly why I spoke about these specifics. Now we have other projects that are purely metaverse with real estate, creating digital twins for museums and whatnot. But we want to show that the metaverse goes beyond that," Alfred elaborated. 
"It's really the way we look at it because I mean, whoever you ask, each person will have a different definition of the metaverse," he added.
And personally, I couldn't agree more. I thought.
"If you want to put it in a simple sense, it is enhancing the physical with the virtual." And that's how Shaffra's CMO concluded his exposition, unveiling the essence of the metaverse as perceived through the gaze of Shaffra.  
So, as we close this piece, let us be mindful of one thing – among other things, naturally.
Let us envision a virtual realm where businesses thrive. Where operations are streamlined. Where employee interactions transcend physical limitations. This virtual realm could very well come to fruition with the offerings of metaverse-as-a-service for businesses.
Within the diverse offerings of the metaverse, and the dynamic scale of this virtual world, companies like Shaffra Technologies Labs enable organizations to unlock new frontiers of success by seamlessly integrating their business processes and objectives with the boundless opportunities presented by this digital realm.
So, open your eyes to the endless possibilities of technology. Open your eyes to the endless possibilities of the digital realm where reality is no longer just reality, but a virtual world that is harmoniously merged with what is real and surreal. Open your eyes and your mind will follow.
The metaverse is no longer a mere concept. It is the realm where innovation and imagination reign supreme.
Welcome, my friend, to the metaverse-as-a-service for businesses.
---
Inside Telecom provides you with an extensive list of content covering all aspects of the tech industry. Keep an eye on our Interviews to stay informed and up-to-date with our daily articles.