Dubai, May 23 – The UAE is no longer just a mesmerizing tapestry of ancient sands. Today, the City of the Sun, Dubai, opened its doors for the digital era as Seamless 2023 welcomed a wave of attendees, exhibitors, and speakers alike from all around the globe.
An era embracing innovative transformation in the digital hub, of all digital hubs, Dubai. And what better way for Inside Telecom to share this experience with our beloved readers than by presenting a mental image of what the first day at Seamless looked like.
Our mission is simple: to demonstrate to you, our readers, our unwavering commitment to staying at the forefront of the fintech industry and sharing our experiences.
Our goal: leveraging our presence at Seamless Dubai to gain insights into the latest trends, innovations, and advancements in the fintech industry.
On the outside, it is a day like any other day. But as soon as you step into the Dubai World Trade Center, Hall 1, you feel in every bone in your body the embodied experience that is Seamless 2023, with its endless prospects of digital transformation. And that, my friend, is the core value of what Seamless Dubai 2023 truly represents.
With an exhibitor list exceeding 500 exhibitors, Seamless is THE place that intertwines the physical and the digital worlds – well, in a seamless way.
For Inside Telecom to witness the latest innovative developments where payment, biometric authentication, digital marketing, banking, e-commerce, and the godfather of all digital financial solutions, fintech, unite under one roof can be considered as nothing but a truly positively overwhelming experience.
Today, Inside Telecom leverages the mighty power of both the tech and media sectors. Our presence at Seamless Dubai 2023 aims to channel the promising prospects of fintech and humanity.
It is without a doubt that the world of fintech is taking over, and people are becoming more and more receptive to putting their trust in this industry and the cutting-edge technologies accompanying it, only meant to facilitate life.
Looking around, you see all kinds of companies presenting their services and products. Presenting a painting of a technological future.
As you witness people's overwhelming embrace of the future of the digital world, you ask yourself, "Is it really a matter of whether people embracing technology as an extension of life? Or has it become a matter of how far people will embrace technological development as an extension?"
Looking up, around, and sometimes even down, you see ideas you never would've imagined. Products that not only understand your every need but even anticipate them.
Products that build personalized customer interactions to deliver a unified solution, and an agent console that centralizes all your conversations across channels, in one place from Unifonic.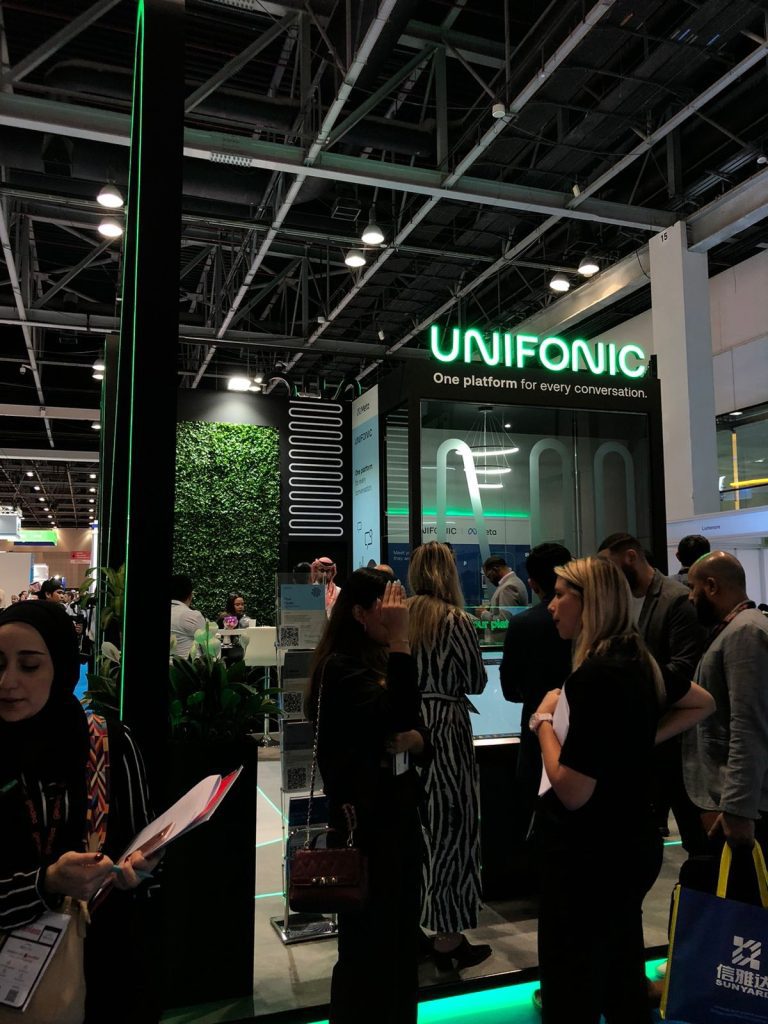 Unlocking the skies and embracing the sensation of eco-consciousness. Enters a sleek and environmentally friendly creation, combining elegance, security, and sustainability. SPS in Group's presents the art of secure document conception. A sustainable payment card, with the motto "Go Green!" Delivering secure components for ID cards to help halt any risk of falling victim to fraud, or even better, delivering another layer of control over customers' authenticity.
The extraordinary lineup of exhibitors covers a wide range of products, showcasing innovation, creativity, and cutting-edge technology such as Thunes' payment infrastructure, Innovatrics' full technology stack for remote identity verification, AI Robotx, Mappable's services to empower businesses with locally relevant mapping solutions, Payoneer's payments and commerce solutions, OPAX's digital payment solutions, and much much more.
Seamless 2023 is not a mere exhibition for digital payments and fintech. It is more than that. Inside Telecom will forever remain committed to its dedication to gaining insights into the latest trend and establishing valuable relationships with rising companies, titan companies, and intrigued readers.
And for us, Seamless Dubai was the perfect gateway to do just that. Creating a bridge between an industry and an enthusiastic reader, such as yourself.
It represents the endless possibilities of a future where convenience, security, and payments are all intertwined in the most seamless way to empower the societies of the unfolding technological world. An event that will be marked as a first-hand representation of how fintech, e-commerce, and a myriad of rising innovations can, and will, reshape the human race.
---
Inside Telecom provides you with an extensive list of content covering all aspects of the tech industry. Keep an eye on our Fintech sections to stay informed and up-to-date with our daily articles.