A federal judge in Manhattan on Thursday said Grubhub, Uber Eats and Postmates cannot force diners who have used their platforms into binding arbitration over claims they conspired to drive up prices for restaurant meals during the COVID-19 pandemic.
The lawsuit accused the meal delivery companies of entering illegal agreements that prevented restaurants using their platforms from selling meals directly to consumers at lower prices.
Diners said this forced them to pay artificially high prices for meals they ordered elsewhere.
In response, the companies said that by accepting the terms of use for their platforms, diners agreed to arbitrate their claims individually and not pursue a class action in court.
But U.S. District Judge Lewis Kaplan said it would be "unconscionable" to enforce the defendants' "infinite" arbitration clauses, so named because their terms would require arbitration of any disputes regardless of subject matter.
The diners' claims "are based solely on purchases made directly from restaurants or from non-defendant meal-delivery platforms," Kaplan wrote. "The fact that [they] at some time used some of the defendants' platforms is purely coincidental."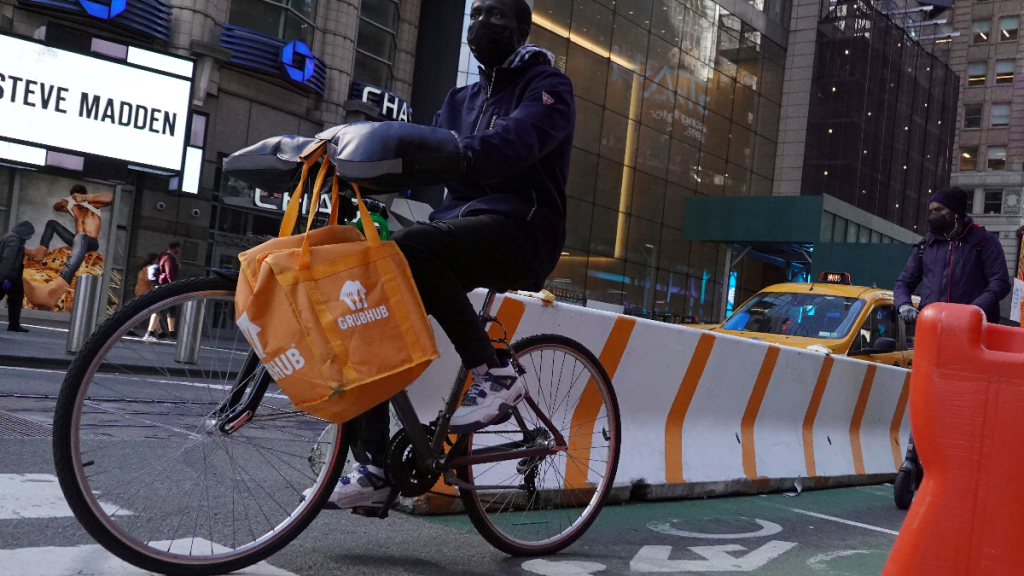 Grubhub, Uber Eats, Postmates and their respective lawyers did not immediately respond to requests for comment. Lawyers for the diners did not immediately respond to similar requests.
Last March, Kaplan refused to dismiss the lawsuit, saying it was reasonable to infer that requiring restaurants to accept the delivery services' "no-price competition clauses" forced them to raise prices regardless of where diners ordered meals.
His decision on Thursday means the case stays in federal court.
The lawsuit seeks triple and other damages for dine-in and delivery customers in the United States since April 2016.
Grubhub is owned by Netherlands-based Just Eat Takeaway.com, while Uber Eats and Postmates are owned by Uber Technologies Inc.
The business practices of delivery companies faced increased scrutiny after the pandemic forced tens of thousands of restaurants to close or temporarily shut their dining rooms.
The case is Davitashvili et al v Grubhub Inc et al, U.S. District Court, Southern District of New York, No. 20-03000.
---
NEW YORK (Reuters)
Inside Telecom provides you with an extensive list of content covering all aspects of the Tech industry. Keep an eye on our News section to stay informed and updated with our daily articles.