The number of Americans filing new claims for unemployment benefits unexpectedly fell last week, pointing to a persistently tight labor market, and further fueling fears that the Federal Reserve could raise interest rates higher than anticipated.
Those worries were amplified by other data on Thursday showing inflation was much stronger than initially thought in the fourth quarter, which raises the risk of higher readings when the government publishes January's personal consumption expenditures (PCE) price data on Friday.
While the Fed is expected to deliver two additional rate hikes of 25 basis points in March and May, financial markets are betting on another increase in June. The U.S. central bank has raised its policy rate by 450 basis points since last March from near zero to a 4.50%-4.75% range.
"If the labor market is the light guiding the Fed's path to bringing inflation under control, policymakers have some more work to do because growth remains positive and the demand for labor is strong," said Christopher Rupkey, chief economist at FWDBONDS in New York. "There's no recession anywhere in today's data and inflation looks slightly worse."
Initial claims for state unemployment benefits decreased 3,000 to a seasonally adjusted 192,000 for the week ended Feb. 18, the Labor Department said. Economists polled by Reuters had forecast 200,000 claims for the latest week.
Unadjusted claims declined 14,465 to 210,867. Claims for four states including California were estimated, likely because of Monday's Presidents' Day holiday, which usually means less time for state offices to process applications.
Claims for California were estimated to have fallen sharply, which together with significant declines in Michigan, New York and Minnesota offset a surge in Kentucky.
Claims have been hemmed in a tight 183,000-206,000 range this year, and run consistently low despite high-profile layoffs in the technology sector and interest-rate sensitive industries, which economists and policymakers have argued were not representative of the overall economy.
Minutes of the Federal Reserve's Jan. 31-Feb. 1 policy meeting published on Wednesday showed "several participants noted that recent reductions in the workforces of some large technology businesses followed much larger increases over the previous few years and judged that these reductions did not appear to reflect widespread weakness in the demand for labor."
U.S. stocks fell. The dollar was steady against a basket of currencies. U.S. Treasury prices were mixed.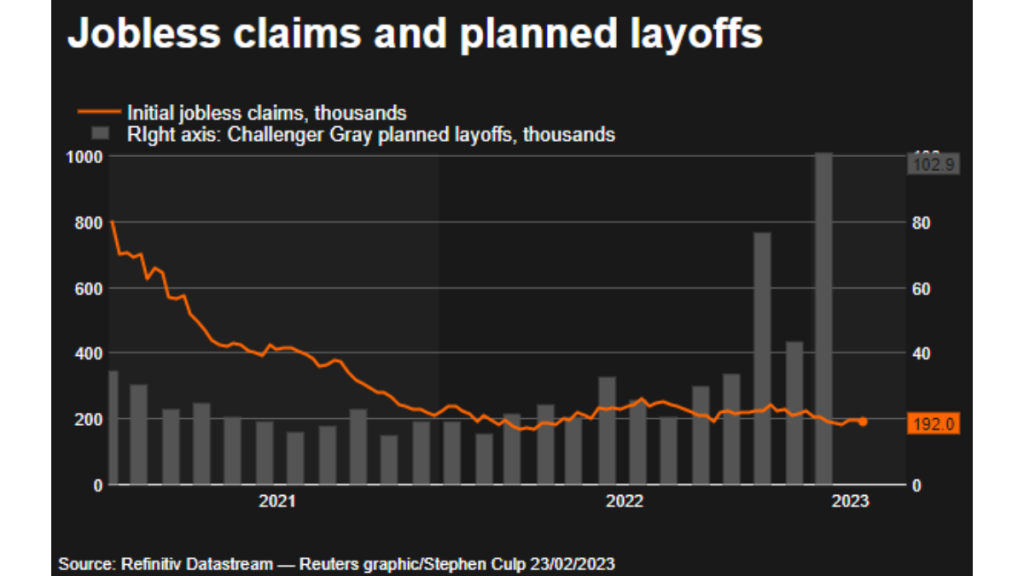 STRONG LABOR MARKET
The claims data covered the week during which the government surveyed business establishments for the nonfarm payrolls component of February's employment report. Claims were unchanged between the January and February survey weeks.
Economists expect strong employment growth in February, though the pace probably slowed from last month's eye-popping 517,000 jobs. Data next week on the number of people receiving benefits after an initial week of aid will cast more light on the state of the labor market in February.
The so-called continuing claims, a proxy for hiring, dropped 37,000 to 1.654 million during the week ending Feb. 11, the claims report also showed. Though continuing claims remain elevated, they are below levels seen before the pandemic.
There were 1.9 job openings for every unemployed person in December, data showed this month. The unemployment rate at 3.4% in January was the lowest in more than 53 years. Goldman Sachs said on Wednesday it expected the jobless rate to rise to 3.6% by the end of this year and stay there at the end of 2024.
Labor market tightness is generating wage growth, contributing to keeping inflation elevated.
A separate report from the Commerce Department on Thursday showed inflation increased much faster than initially estimated in the fourth quarter. A measure of inflation in the economy, the price index for gross domestic purchases, rose at a 3.6% rate, revised up 0.4 percentage point from the advance estimate.
The PCE price index accelerated at a 3.7% pace, revised up from the previously estimated 3.2% pace. Excluding food and energy, the core PCE price index rose at a 4.3% rate, an upward revision of 0.4 percentage point. The PCE price indexes are the Fed's preferred inflation measures.
The revisions to prices were led by used and new motor vehicles, and fees for nonprofit hospital services. They also reflected revisions to the Labor Department's Bureau of Labor Statistics' consumer and producer price data published this month. The upgrades point to higher January PCE price index readings.
"Upward revisions to fourth-quarter PCE inflation, while not reflecting much new information, help reaffirm that risks are tilted towards higher inflation than presumed a month ago," said Veronica Clark, an economist at Citigroup in New York.
Personal income increased $388.1 billion last quarter, revised up $77.1 billion. Wages and salaries growth in the third quarter was much stronger than previously reported.
Wages and salaries are now estimated to have increased $303.0 billion in the July-September quarter, an upward revision of $115.2 billion. The upward revisions to income in the last quarters meant Americans saved more than previously reported. The saving rate was raised to 3.2% in third quarter from 2.7%. It was boosted by 0.5 percentage point to 3.9% in the fourth quarter.
Higher inflation chipped at consumer spending, resulting in the fourth-quarter gross domestic product growth estimate being trimmed to a 2.7% annualized rate from the previously reported 2.9% pace. The revision also reflected a downgrade to exports.
Much of the increase in GDP came from unsold goods at businesses, which could weigh on future growth.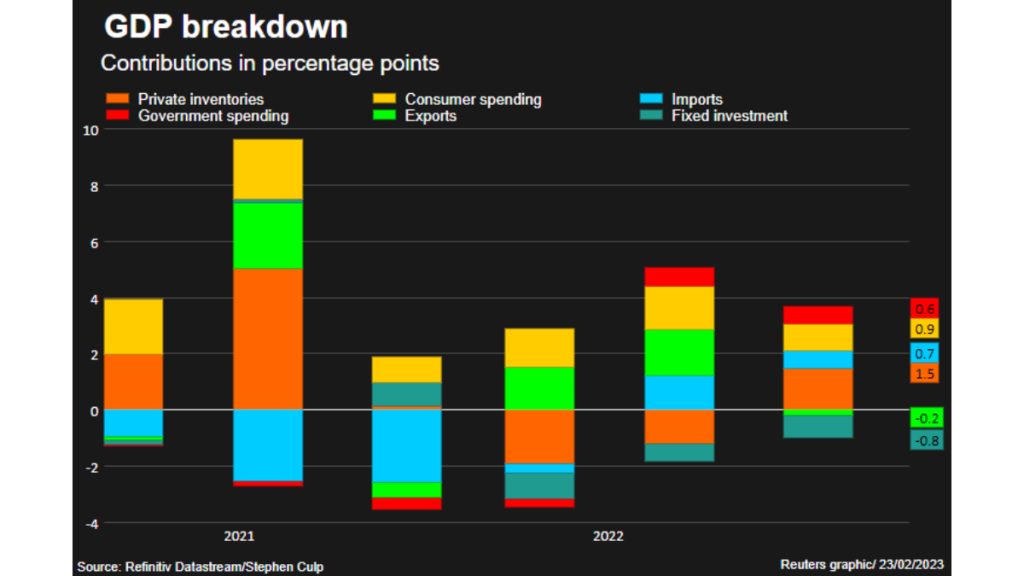 Excluding trade, government and inventories, domestic demand increased at only a 0.1% rate instead of the previously reported 0.2% pace. That probably reflected a slackening in demand in the last two months of 2022. Demand, however, appears to have regained speed at the start of the new year. Retail sales growth surged in January and production at factories rebounded as did activity in the services industry.
"While we continue to forecast a recession, we see risks that it may start later than we currently expect," said Oren Klachkin, lead U.S. economist at Oxford Economics in New York.
---
WASHINGTON (Reuters)
Inside Telecom provides you with an extensive list of content covering all aspects of the Tech industry. Keep an eye on our News section to stay informed and updated with our daily articles.