e& Group received the Brand Finance Award for being recognised as the most valuable portfolio of telecom brands in the Middle East and Africa.
etisalat by e& retained its position as the strongest brand in all categories in the MEA region and was ranked among the top three telecom brands globally.
Barcelona, 2 March 2023: e& today received the Brand Finance Telecoms 150 2023 award as the most valuable portfolio of telecom brands in the Middle East and Africa.
e& has undergone a significant transformation, resulting in remarkable business growth and sustained stakeholder confidence. The transformation into a global technology and investment group has seen e&'s portfolio of brands grow by 12.3 per cent year-on-year to a new record of $14.6 billion.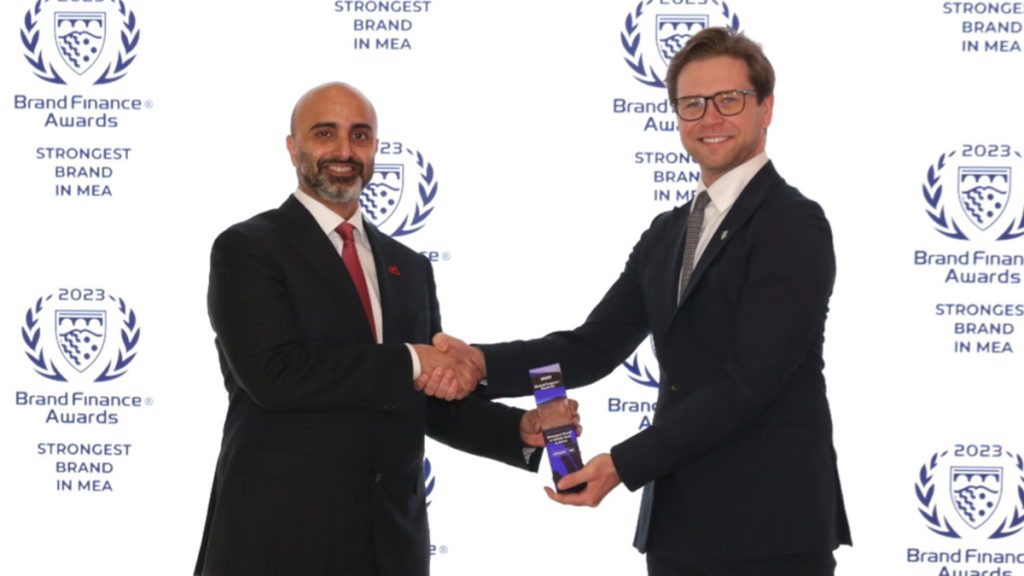 The Group's largest telecom brand, etisalat by e&, was also awarded as the strongest brand across all categories in the MEA region and was ranked in the top three telecoms brands globally. This new global position is a reflection of a tech-driven telecoms brand enabled by superior 5G connectivity, high NPS scores through richer personalised customer interactions and increased employee satisfaction through a vibrant corporate culture that makes it an attractive employer.
Hatem Dowidar, Group CEO of e&, and Masood M. Sharif Mahmood, CEO of etisalat by e& UAE, received the awards on the sidelines of the Mobile World Congress held in Barcelona.
Dowidar said "We are determined to remain at the forefront of technological transformation in the digital sphere. To this end, we are committed to exploring new business models to enhance our offerings and services for more than 162 million subscribers in the markets we serve. Our primary strategic objective is to create new collaborations and investment opportunities that will enable us to accelerate growth in all our business verticals.
"Customer satisfaction is a non-negotiable priority for us, and we aim to exceed their expectations. Our customer-centric approach drives us to continually improve our products and services to deliver unparalleled value. Our fixation on customer happiness allows us to build lasting relationships and maintain our position as a leading global technology Group."
The success of the Group's business strategy is reflected in the Brand Finance report, which recognised etisalat by e& as the strongest telecom brand in the MEA region, with a Brand Strength Index (BSI) score of 89.1 out of 100 and an "AAA" rating.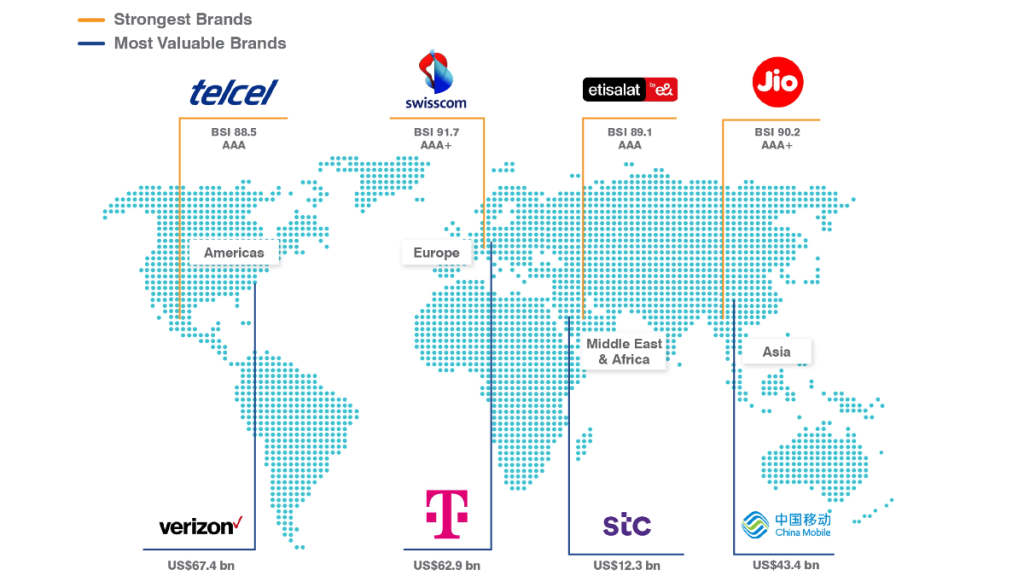 Mahmood said: "This recognition reflects our commitment to providing our customers with the most outstanding services and experiences. We will continue to leverage the strength of our brand and market reach to drive growth and success, while investing in cutting-edge technology and innovation to provide our customers with the best products and services. Our strategic priority is to strengthen etisalat by e&'s position as a leader in the technology and telecom sectors, known for its innovation, customer service and commitment to sustainability."
Hatem Dowidar, Group CEO of e&, has been ranked 1st globally in the Telecom Brand Guardianship Index (BGI) for 2023, and is the first CEO from the Middle East and Africa region to top the index. This ranking incorporates original market research from 1,000 analysts and journalists from around the world, and looks at three areas: Investment and how leaders steer the company in the right direction, Fairness and how different stakeholders perceive it, and Performance and how the brand and company have performed during their tenure.
Brand Finance is the world's leading independent branded business valuation and strategy authority, evaluating over 5,000 brands across all sectors and geographies every year.
Etisalat Group had changed its brand identity to e&, effective from 23 February 2022. Its strategy aims to accelerate growth through the creation of a resilient business model representing the Group's main business pillars.
The telecoms business currently continues to be led by etisalat by e& in the UAE which is its home market and by e& international in the global markets, upholding the Group's rich telecoms heritage, bolstering the strong telecoms network and maximising value for the Group's various customer segments.
Ramping up the digital services for individual customers to elevate their digital-first lifestyle, e& life brings next-generation technologies through smart platforms in entertainment, retail and financial technology.
To maximise the digital potential of governments, large-scale enterprises and corporates, e& enterprise focuses on delivering innovative digital vertical value propositions through its end-to-end solutions in cybersecurity, cloud, Internet of Things (IoT) and Artificial Intelligence (AI), as well as deploying mega projects. e& capital allows the Group to focus its efforts on driving new investments while maximising shareholder value and strengthening global presence.
---
About e&
e& (formerly known as Etisalat Group) is one of the world's leading technology and investment Group. With consolidated net revenue at AED 53.3 billion and consolidated net profit of AED 9.3 billion for 2021, its high credit ratings reflect the company's strong balance sheet and proven long-term performance.
Founded in Abu Dhabi more than four decades ago as the UAE's first telecommunications company, the Group now operates in 16 countries across the Middle East, Asia and Africa.
e& provides innovative digital solutions, smart connectivity and next-generation technologies to a variety of customer segments through its business pillars: etisalat by e&, e& international, e& life, e& enterprise and e& capital.
To learn more about e&, please visit: https://eand.com/
---
Inside Telecom provides you with an extensive list of content covering all aspects of the Tech industry. Keep an eye on our Press Releases section to stay informed and updated with our daily articles.