As the tech giants continue to process layoffs the government unlikely as it seems is here to save the day. It's estimated 400,000 workers were let go by tech companies globally in 2022 and 2023. This is data collected by Layoffs.fyi, a website tracking job losses in the tech sector. With the market still not recovering, some individuals are being lured to public sector jobs which come with benefits like pensions and a nice, fuzzy sense of altruism are becoming more and more in demand. 
The Shake Up in Tech Jobs  
It began in June 2022 when inflation was at its peak. A price increase of 9.1% was noticed by consumers. According to the U.S Bureau of Labor Statistics (BLS) the inflation that hit the economy was the highest in 40 years. This hit the economy hard and in order to survive, companies began to lay off many of their workers, which made them enter a phase called a survival mode.  
To offset their higher costs as a result of inflation, businesses try to reduce expenses. Since personnel are one of the biggest business expenses, firing employees is usually one of the first cost-cutting strategies. When companies reduce their advertising, tech companies suffer financial losses. The business models of tech companies like Meta, Google, Apple, Amazon, Twitter or X, and Microsoft depend on selling advertisements. 
The two main reasons for layoffs were an economic crash and the rise of AI. Several tech companies are going through financial crisis, but others are relying on AI because the cost is cheaper. The main AI tools that are taking over jobs are ChatGPT and Bard in tech companies.  
Let's order the layoffs in the following major tech companies based on Statista's data for technology and telecommunications from 2020 to 2023, going from highest to lowest: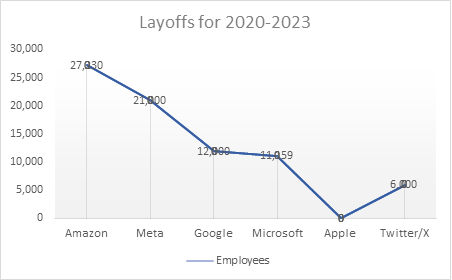 Silicon Valley & US Govt Love Hate Relation  
The US government and Silicon Valley go way back in history. Their ups and downs in several instances have made them have a relationship that is one of a kind.  They have influenced each other in many factors but the two main ones are the creation of policies and technology.  
Govt New Style  
The new tech hub is the US government. SHOCKING? NO. 
The US Government is seeking to hire tech professionals from big tech companies for several reasons.  
Tech professionals from different tech companies bring added valuable skills to complex challenges that the government might face. Areas of expertise such as AI, data analytics, and cybersecurity are strongly called for in governmental systems. A modernization of governmental tech systems is needed, to make them more secure and user friendly. Governments do face cyberattacks. Having tech experts would aid in lessening the attacks and create programs to strengthen the system. These are a few reasons out of the multiple ones why governments are eagerly hiring techs.  
President Joe Biden of the United States agreed upon a $1 trillion infrastructure law in 2021. Along with extra funding to earn federal agencies to be spent on cybersecurity, it included $1 billion in grants for state and local governments. This cash inflow coincides with a downturn in the tech industry. 
Additionally, tech workers continue to have a strong interest in government jobs. The Tech Talent Project, a nonprofit that assists the US government in hiring tech talent, hosted a Tech to Gov career event in late October that attracted over 3,000 registrations. There were now a thousand more people on the waiting list. 
"It's not just layoffs—what I have seen is folks pausing in the tech sector," says Jennifer Anastasoff, executive director of Tech Talent Project. People have "started pausing and thinking about where they can make the most difference" at this moment. 
As of mid-November, 107 positions on a federal tech job portal were available, with salaries ranging from roughly $40,000 to nearly $240,000. In an attempt to fill some of the 22,000 unfilled tech jobs in the public sector, the Office of Personnel Management issued a call to laid-off tech workers earlier this year. However, they did not reply to inquiries about the hiring procedure. Nonetheless, prominent private sector employees have found success at smaller government organizations across the nation. 
As the first chief customer experience officer in the state, New York recently recruited a former high-ranking employee of Blue Cross Blue Shield of Massachusetts; in the meantime, Baltimore's newly formed Digital Services Team hired three private sector employees and a director. Modernizing the permitting process to enable online applications for incidents and street closures was one of their initial initiatives. Despite the efforts of government teams to innovate, organizational inertia creates barriers to efficiency. 
Though it's difficult to make minor adjustments like these in government, more states and cities are starting to invest in digital infrastructure. In Pennsylvania, for instance, Josh Shapiro, the state's new governor, has made significant investments in technology and AI. To oversee these initiatives, they have also recently employed a chief information officer from Comcast. According to Amaya Capellán, people may be considering leaving tech jobs because of realizing that tech companies view them as expendable. "It's really inspiring to think about the kind of ways you can affect people's lives for good." 
As the government is working harder to provide a better future for its people, tech workers are a big part of the reason. The shape shift in their place of practice will only promise us a better future. 
---
Inside Telecom provides you with an extensive list of content covering all aspects of the tech industry. Keep an eye on our Tech sections to stay informed and up-to-date with our daily articles.