Remember the XReal Air 2 Smart Glasses launched by Real? Now, we have an updated version.
Well, now the Xreal Air 2 smart glasses have add-ons that are supposedly better, but with a little change in the design. It looks a bit quirky to me, where my head was moving around my laptop's screen, trying to figure, well, what went wrong when designing the glasses.
Xreal 2 offers augmented reality features like overlaying navigation directions or product details onto the real-world view. These glasses can be used for various purposes, simulating the experience of multiple virtual screens without the need for physical monitors.
Don't get me wrong, this is great, and we love that! Finally, there's something like that. But, guys, what about the design? You can do better. I have faith in you.
"More stylish than ever before." Are You Sure?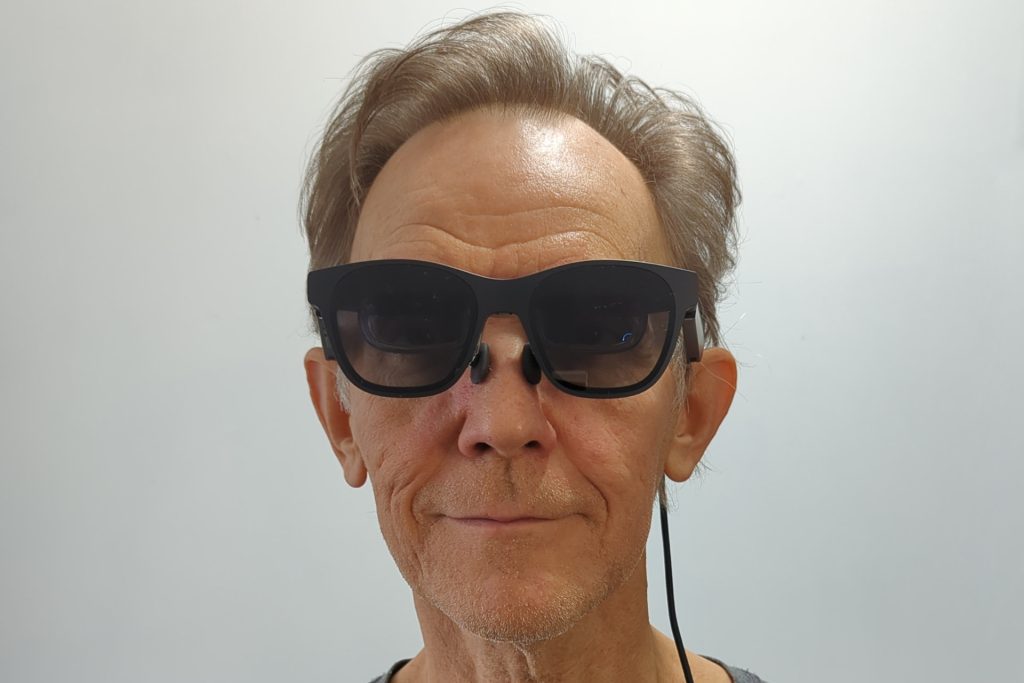 Source: Digital Trends – Alan Truly wears the Xreal Air 2 smart glasses
You got the point, right?
72 grams, all weather glasses
Nonetheless, as it's obvious in the image, there are soft and adjustable nose pads so that your nose doesn't get hurt after long wear, which says a lot about how lightweight it is – at 72 grams, to be accurate.
As well as the flexible earpieces that fit better than the previous ones, they actually have vertical adjustment in the axes for guaranteeing a whole visible screen, to enjoy the experience to the maximum.
The Xreal glasses also has great image quality, enabling users to see everything crystal clear despite the weather conditions, be it bright sunlight or in the middle of a hailstorm. Or a natural disaster?
Xreal offers Nebula software
"XREAL's Nebula software is a 3D user interface system designed specifically for XREAL's brand of AR glasses. It projects 2D content onto an interactive virtual AR Space while retaining familiar smartphone interface features that make navigating XREAL AR Glasses intuitive,"  Xreal Nebula on Google Play.
These Xreal Air 2 smart glasses extend your virtual screen, allowing you to view numerous windows or applications concurrently. The only time where crossing boundaries is a good thing is in these smart glasses, where exceeding the limits of your physical screen is handy, especially when you're multitasking and/or working on large documents.
These glasses have the potential to transform how we interact with the world around us, both personally and professionally.
Still not convinced with the design! Ladies and gentlemen, what do you think? Will you wear the Xreal Air 2 smart glasses?
---
Inside Telecom provides you with an extensive list of content covering all aspects of the tech industry. Keep an eye on our Tech sections to stay informed and up-to-date with our daily articles.