Compared to other equally rated in-ear true wireless sports buds, JBL Reflect Flow True Wireless earbuds are a major player in the true wireless sports headphones niche.
If you're not looking for a set of sports in-ear headphones, the JBL Reflect Flow headphones, however, are excellent for real wireless sports in-ears, especially if you want a bass-heavy sound for the gym – and the battery will last a seriously long run.
Here is a more detailed JBL Reflect Flow review.
JBL Reflect Flow Build and Case
In comparison to their predecessors, the JBL Reflect Flow have a battery life of ten hours from the earbuds themselves and an additional twenty hours from the case. In around two hours, the entire system may go from empty to completely charged, which is very convenient when you're in a rush or forgot to plug them in overnight.
On the other hand, it is more than a little bit disappointing. It's a bit too bulky to be carried around comfortably, which defeats the purpose of being portable, especially for a sports niche product. Although the black and silver brushed plastic – also available in teal and silver – won't show any fingerprint smudges, the silver coating might start to peel off significantly after only a few days of carrying it about.
The spherical buds have a branded center button, which is visible through the translucent fins and tips, and color embellishments around the driver housing and on the sides of the button that are made of silver.
In all, three different sets of tips and fins are provided in the JBL Reflect Flow. We'd like to have a few more alternatives, but despite being a bit tricky to fit, a secure and sports-worthy fit is possible by either shrinking or upsizing the tip or fin, or both. With the proper accessories in our lugholes, we run in them, and they don't budge.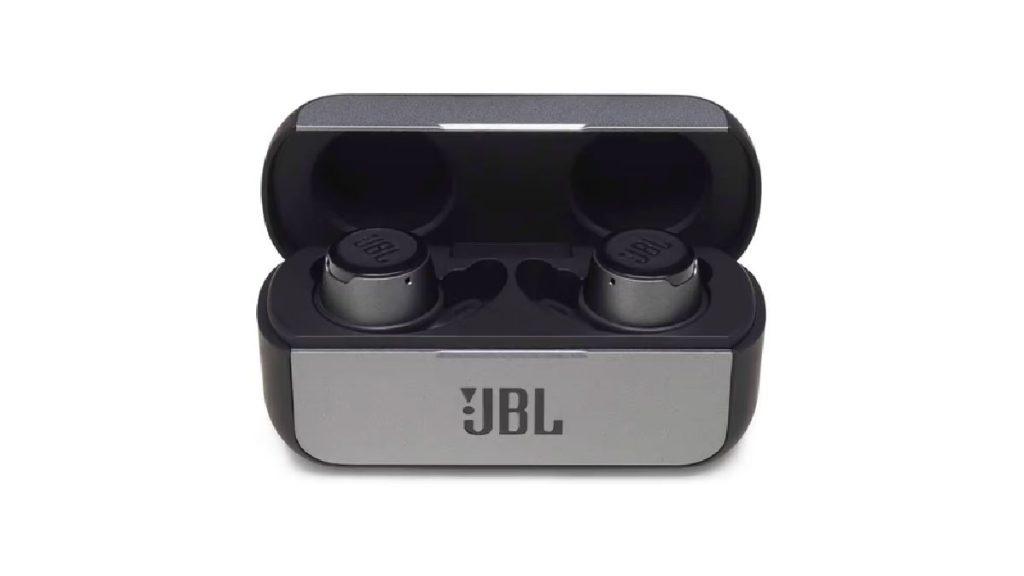 Additionally, setting up a Bluetooth connection is simple and reliable. The user can also easily scroll to a significantly softer sound or extremely low volume playback by briefly pressing the left bud.
The JBL Reflect Flow claims to be excellent for taking calls seamlessly, but it's nothing special. Other in-ears allow users to simply change the volume by holding either the left or right bud for an extended period of time. This feature may prove to be more practical in the long run.
The JBLs also have a waterproof IPX7 rating, which is perfect for getting caught in the rain, holding the buds with damp hands, or getting sweaty on a run, as any wireless sports earbuds should.
JBL Reflect Flow Sound
As the singing takes center stage, the mellow and delicate guitar progression at the beginning of the song accompanies it with a soothing, melodic backdrop that is crisply delivered and fully filled out in terms of detail.
While bowed strings are carefully caught via the midrange, the bass drum is faithfully communicated, and the mix doesn't noticeably muddle up in terms of the relative space between sounds even as it gets louder.
In a more bass-heavy song, the JBL Reflect Flow earbuds will definitely carry you through a challenging run or gym session. The bass never suffers from timing difficulties and is deep but lively, accurate, and well-balanced.
The midrange of the Reflect Flows is pleasingly restrained, although occasionally, and you can notice a slight flaw in the peak and fall of some songs that give them their emotive and enthused feel. This can make you feel a little removed from the action. However, for the price, it's still a pretty good performance.
Final Verdict
The JBL Reflect Flow True Wireless are a respectable set of earbuds with a well-balanced sound profile that should work with most genres. They are well-built and of good quality. Although they are a little big, with the right fit, they are stable and shouldn't present any problems when used for sports.
Additionally, they don't leak much and have excellent passive noise isolation, so you should be able to turn up the volume without disturbing anyone around. You cannot alter the sound since they are not compatible with the JBL mobile app. They remain a nice set of headphones to bring to the gym overall.
---
Inside Telecom provides you with an extensive list of content covering all aspects of the tech industry. Keep an eye on our Product Review section to stay informed and up-to-date with our daily articles.