In an attempt to warn about the current global economic situation, Huawei founder Ren Zhengfei is urging big and small businesses to focus on surviving, as the worse is yet to come.
Global tensions are rising, and China, as a powerhouse, is playing its cards to show its powerful stance.
Yet, could this be at the expense of big tech companies such as Huawei?
The founder of Huawei has issued a stern warning for the tech industry's future, raising concern about what it means for smaller businesses amid China's economic difficulties and a worldwide slowdown.
This harsh statement by the original founder is merely a warning and a painful one. What all tech companies have been thinking about is finally being vocalized by one of the leaders in the vendors' scene. The calm before the storm is what the industry is experiencing now, and small businesses have to prepare themselves for what's to come.
China vs U.S.
The founder's warning stems from long-lasting tensions between the East and the West. China currently suffers from harsh economic sanctions imposed by Washington, especially those on its technology companies, such as Huawei and ZTE.
With Washington and its western nations banning Huawei from their markets due to worries over national security and banning them from purchasing some foreign technologies, it has become a point of great tension in US-China relations.
A move that heavily affected Huawei and its market profit.
Ren Zhengfei warned Huawei personnel in a leaked internal message that "everyone will feel the chill" and that if the firm wants to survive the next three years, it must prioritize profit above cash flow and expansion. Ren's comments likely refer to more layoffs and divestments.
Ren pointed to the epidemic, the effects of the Ukraine conflict, and the ongoing boycott of some Chinese businesses by the U.S., saying that "The next decade will be a very painful historical period, as the global economy continues to decline."
"Huawei must reduce any overly optimistic expectations for the future and until 2023 or even 2025, we must make survival the most important guideline, and not only survive but survive with quality," Ren continued.
In a time when China's economic stability endures heavy pressure caused by U.S. sanctions, Huawei seems to be caught in the crossfire, and the Chinese giant's founder is urging the company to take the needed measures to secure its position in the market and scene.
But will Huawei be able to face such a heavy challenge to pull itself back on its feet?
The COVID-19 Effect
Pandemic restrictions, a crisis in the real estate market, and deteriorating foreign ties are just a few of the issues putting pressure on China's economy. This year, the nation's 5.5 percent growth goal seems out of reach.
The largest company in China, Huawei, is attempting to control sharp declines in revenue and profit. The company's revenue fell by 14 percent in the first quarter of 2022, while its net profit margin shrank to 4.3 percent from 11.1 percent in the same period last year.
"In the past, we embraced the ideal of globalization and aspired to serve all mankind, so what is our ideal now?" Ren stated.
"Survive and earn a little money where we can. From this point of view, we need to adjust the market structure and study what can be done and what should be abandoned."
More than 100 million users shared and debated Ren's message on Chinese social media, and some expressed concern for the general public and small enterprises in light of the fact that a firm on the scale of Huawei was issuing such warnings.
A number of people pointed the finger at the U.S., with one commentator claiming that Huawei's expansion "came to an abrupt end under the frenzied suppression of the United States."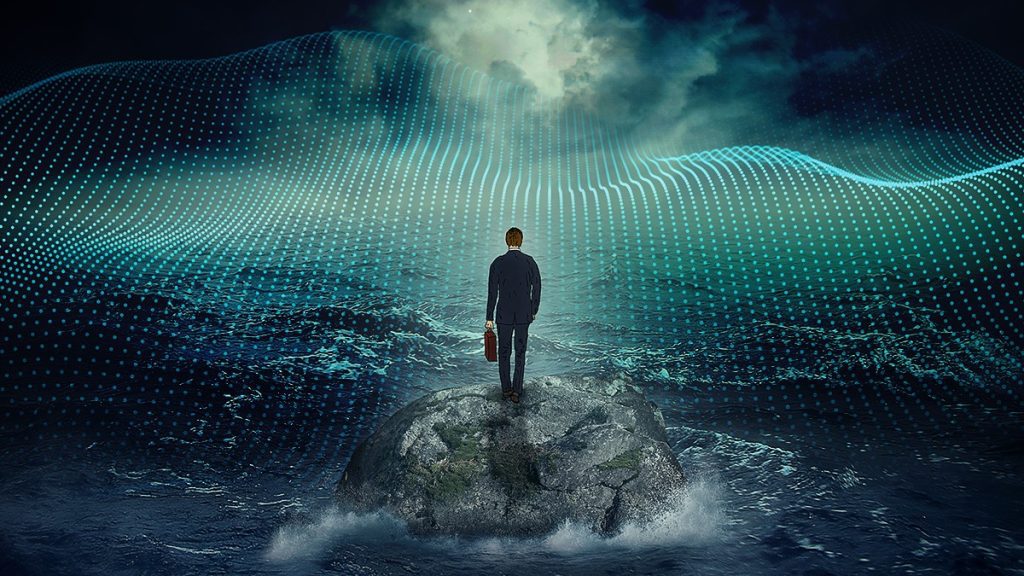 According to Trivium China analyst Linghao Bao, the world economy is in a terrible state, and cost-cutting during a recession is not an unusual measure. "The reason why Ren Zhengfei's words stood out is the way he said it. He sounded like he was in panic mode," he stated.
"In addition, it's a politically sensitive time right now," Bao added." We're just a couple of months away from the 20th party congress. As you know, economic performance is tied up with the party's legitimacy."
Director of the SOAS China Institute, Professor Steve Tsang, stated that because of his position and status, Ren might be allowed to express himself more openly than many others, and so his words should be taken with the utmost seriousness.
"When someone like Ren admits how much trouble a national champion like Huawei can be facing as a result of U.S. sanctions, it does indicate the wider Chinese economy is also vulnerable," Tsang said. "But that is, as the saying goes, above his pay grade and is a matter for Xi Jinping to decide on how to tackle. The questions are whether Xi will have the pragmatism and vision of Ren to come up with something that may be as effective as what Ren is putting forth for Huawei."
This week, the Chinese government unveiled 19 new measures and an additional $146 billion (£123 billion) in stimulus funds to alleviate the economic harm caused by the pandemic and the harsh measures taken by the nation as a result, as well as a problem in the real estate construction sector.
Numerous and erratic lockdowns have hampered supply chains, the operation of factories, and overall economic activity, particularly for small enterprises. According to official media, the private sector in China accounts for 30 percent of all employment and 90 percent of all new urban jobs.
In July, youth unemployment hit a record high of 19.9 percent, while the overall urban unemployment rate stayed at a high rate of 5.4 percent. Payouts from unemployment insurance also reached a record level in June.
At a news conference on Thursday, Zhang Ying, the head of employment promotion at the ministry of human resources and social security, stated, "Amid sporadic Covid-19 outbreaks in some regions since the beginning of this year, job demand in the market has reduced, and some recruitment campaigns have been canceled or delayed," Zhang Ying, the head of employment promotion at the ministry of human resources and social security, stated at a news conference on Thursday, adding that some young job seekers have been experiencing new difficulties in their efforts.