5G is a very distinctive upgrade from the previous generations. And it boils down to one key factor, Speed. Such speeds are possible because 5G operates on a larger radius of the radio spectrum. This increase in radius allows wireless devices to be more efficient with signal transmission. 5G further allows more fast-paced data processing times for devices. Since early 2022, major carriers in the United States rolled out 5G covering 200 million people. Top phone brands started increasingly adopting the technology, adding 5G capacity to all their new releases. Typically, multiple versions of 5G technology exist. Millimeter wave, which provides extreme speeds over short distances. The low band offers a more comprehensive range while sacrificing Speed. 5G will alter the state of smartphones and the telecom stock market. Let us look at how the rollout of 5G can affect the 5G telecom stocks and your investment options.
How Can You Invest in 5G
The most straightforward approach would be to target giant telcos. Such telecom companies have a legacy backing them. And you can count on them to create easy-to-sell, famous 5G capable devices. Companies like Verizon Communications and T-Mobile U.S. inc have shown immense dedication to 5G. Setting up massive 5G networks in hopes of exciting and keeping customers interested in 5G. Their commitment reflects in their stocks. Verizon is currently trading at 37.37 USD and has been showing steady performances. While T-Mobile sells at 152.28, offering a decent, be it a bit shaky, version as well. So investing in such 5G telecom stocks seems like the most direct approach, yet it is not the only one.
Moreover, 5G investment is not solely limited to telecom stocks. Popular 5G-enabled devices have been circulating the market. Companies providing such devices, like chips and 3D inspection systems, are another possible investment option. Various aspects benefit from 5G. Cloud computing, for example, requires the Speed of 5G to operate optimally without WI-Fi. Network infrastructure providers, hardware, software, and fiber optic technology are all companies that will utilize 5G.
Finally, investing in telecom stocks, in general, will eventually lead to 5g telecom stocks investment. After all, the technology needs to be adopted and implemented by the companies. You can invest in companies that don't necessarily offer phone services but offer logistics for telecom companies. Logistics such as cellphone towers or data centers and the list goes on.
How Will 5G Shift Telecom Stocks
Let us dissect the third quarter of 2022. The telecom stocks have been subject to a slow and steady revival, especially with the business operation returning to pre-pandemic measures. The industry benefited from higher demand for the sellable infrastructure of seamless connectivity amongst a wide array of prolific IoT devices. A robust plan of 5G deployment and investments by leading names in the telecom industry to increase the fiber presence in even more challenging areas is underway, promoting confidence in the sector. 5G will affect the market even further in various ways.
Unpredictable Material Prices
Chips are in extreme scarcity currently. They are critical for telecom carriers in general and 5G in specific. Chips serve as the foundation for various equipment implementations. The current world events do not seem to help either. Inflation is eating the world's economies while the Russia-Ukraine conflict keeps adding global ramifications. Many sanctions against the Russian regime have affected various companies' operation timeframe. Many steps have been taken to try and address the chip shortage and keep domestic production back on track. Yet the demand and supply imbalance has left the operations and profitability crippled while the inflated prices of the equipment continue to deal with its blows. This might fall under a negative effect, especially when you factor in that 5G requires a chip to exist in the first place. 5G telecom stocks and the telecom stocks wholly might suffer from such consequences.
The Fast-Paced 5G Implementation
Moreover, on a positive note, 5G kickstarted the prominent growth of mobile broadband traffic and residential internet solutions. Since 5G requires the utmost advanced networking architecture, its demand has increased immensely. 5G might be forcing service providers to update their networks so they will be able to support such data traffic. It is a shift in the right direction, nonetheless. Since it will encourage companies to maintain elite performance standards. The need for network tuning and optimization is endless. In turn, the demand for the latest wireless products and service innovations increases. A faster rate of 5G deployment is imminent, expanding the scalability and security of the telecom industry globally. Such a turn of events will surely entice the prices of 5G telecom stocks.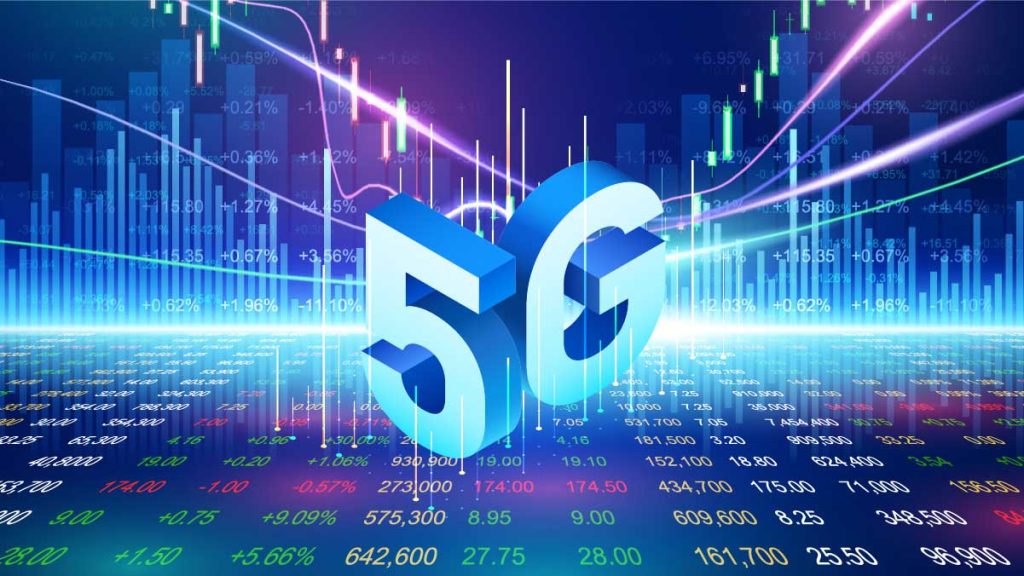 Merging Networks
The industry is increasingly working on solutions to support the convergence of wireline, and wireless networks as operators move toward converged or multi-use network topologies that integrate voice, video, and data communications into a single network. With the help of user-friendly software application programming interfaces, market participants have made it possible for businesses to quickly scale communications functionality to a wide range of apps and devices. Increased virtual storage and computing is another outcome of the widespread adoption of cloud networking systems. There is a huge need for high-quality networking equipment as consumers and businesses use the network.
The Fiber Optics Expansion
5G is a massive upgrade on the 4G LTE wireless standards. It requires intense fiber optic expansion to deliver on the network needs. The fiber optic cable network is essential for backhaul and the last mile local loop. Two critical requirements by service providers for 5G deployment. Fiber networks are also vital for the evolving deployment of small cells that condense the network further. Allowing ease of access for the user and supplementing macro networks providing detailed coverage. The telecom industry is facilitating the move away from an economy-of-scale network for its customers. It allows them to seamlessly switch to a demand-driven operation system, migrating to 5G. 5G will push telecom to offer easy programmability and flexible methods of an operation via robust infrastructure investments, which in turn affect the prices of the 5G telecom stocks.
It Is a Risky Business
5G can quickly revolutionize technology in many ways with its vast potential. But just like any investment, it comes with risks. The U.S.Federal Aviation Administration (FAA) has advised about the risks and the potential safety issues. Especially when factoring in the possibility of interference related to 5G services operating within a portion of the radio spectrum used by aircraft. Airlines and wireless network providers are incentivized to resolve possible safety concerns that come with 5G. This saga might prove to be a deterrent factor for investors.
Moreover, as 5G technology replaces wired setups in hospitals, industries, oil refineries, power grids, and other critical systems, there may be vulnerabilities to hacker cyberattacks that weren't previously a problem. It will probably take some time before 5G is fully implemented because Telcos must redesign infrastructure to support it. By 2025, the GSMA, a trade organization for the telecommunications sector, predicts that half of the mobile connections will be 5G, with further adoption taking longer after that.
Finally, with the weird fascination with 6G already, it might dull the 5G investment. Investors might be deterred from investing in something when the next generation is being taunted already. Even though it might be in the research phase only, it might still encourage investors to invest in its research instead of an older generation.
Decent Picks
This is not financial advice, and this goes beyond saying. Yet some stocks are performing well and are forecasted to continue doing so. Predicting such things is impossible, but studying a pattern can widen your perspective when choosing.
The United States Cellular Corporation, USM, is a Chicago based company. Cellular is among the largest full-service wireless carrier in the U.S. The company provides a catalog of wireless services and products under high standards and quality guarantees. U.S. Cellular is expanding its market presence by adopting unlimited plans to maximize average revenue per user. Furthermore, the company has a middle-band spectrum within its operating markets. U.S. Cellular rocks a Zacks Rank of 1, which is a strong buy. Coupled with an Earnings ESP of + 47.46 percent. Making it one of the most irresistible 5G telecom stocks.
Moreover, you have TELUS Corporation T.U., a British Colombia Burnaby-based firm. TELUS is among the giants of telecom services in Canada. Spreading over 95 percent of Canada's population. TELUS provides internet communications services for businesses and consumers. Recently, the addition of the 600 MHz spectrum will surely help TELUS improve its urban capacity by expanding the rural availability of wireless services. TELUS pushed further and released a 3500 MHz range on its 5G wireless network, providing faster internet, which will incentify customers to buy further and increase the stock value. The Zacks Rank is at three currently, which encourages you to hold. Better days are coming for this 5G telecom stock.
Concluding Thoughts
5G can provide telecom stocks with the much-needed opportunity to return their pricing power. With its immense potential, telcos worldwide will benefit from the global 5G rollout. The need for a reliable and fast network will never end, and the investment opportunity seems excellent. Yet proper research is needed upon taking on any investments of any kind. You will decide what to do with your money, not the opportunity.
---
Inside Telecom provides you with an extensive list of content covering all aspects of the tech industry. Keep an eye on our Telecoms sections to stay informed and up-to-date with our daily articles.