A Short Guide to Using Photo Stocks with Free HD Pictures
The best way to create unique online projects and marketing campaigns is to use eye-catching, high-quality visuals. Appealing images have a massive influence on content perception. A human brain processes visuals 60,000 times faster than text. That's why 93% of all brand communication is usually visual, and using pictures boosts customer engagement. In this piece, we give you a list of top stock photos websites do download high-quality pictures for free.
Image banks feature millions of authentic, licensed files ready to be used for personal and commercial purposes. Moreover, most online libraries offer free pictures for creators on a budget. Read more to learn why you should use such platforms and discover the perks of the most popular photo stocks.
What Are Stock Images?
Stock images are already created visuals made available for licensed purchasing on stock content marketplaces. Photographers and digital creators upload their artwork to these libraries, allowing users to legally download and use pictures for various purposes, e.g., creating designs for websites, advertisements, social media, and other marketing materials. Also, stock platforms carefully check the visual quality, ensuring users get trendy hi-res photos, vectors, illustrations, clipart, and more.
Why You Should Use Photo Stocks to Download Free Pictures for Commercial Use?
Resources – Startups and small businesses can save time and money by downloading and using free pictures in their commercial projects. This is faster and cheaper than hiring an experienced photographer. Furthermore, stock websites are beneficial when you need to find a quality visual as soon as possible.
Variety – Stock platforms feature vast libraries of various images for free usage. You can find appealing, high-quality visuals in any style you need, especially when working on multiple projects. Files are usually sorted into thematic categories and trendy collections, making navigating and finding striking images even more effortless.
Preview available files – Seeing what you get ahead of time helps you avoid misinterpretations of briefs, edits, and other problems you might face when working with a photographer, designer, or illustrator. Photo stocks lay out all their available files, and you can zoom in on a chosen image to check minor details. In case you don't like something, you can proceed with searching further right away.
Legal use of downloaded images – Free stock pictures are legal for website designs and other projects as long as you choose the correct license for your case to avoid copyright infringement. Photo stocks provide only licensed content and have dedicated web pages explaining all licensing terms and conditions.
How Can You Use Free Stock Visuals?
Marketing, advertising, branding, packaging, and print materials – to make the content look more appealing and to help deliver a message.
Social media, websites, and blogs – to illustrate specific points and help the audience understand them better.
Corporate presentations – to illustrate information, grab attention, and motivate the audience.
Creative projects – to create collages, decorations, artistic compositions, and other original designs.
Using free stock pictures offered by popular websites, you have to remember that they often require attribution. This is the main condition for free downloads. Therefore, such images are a great solution when it's easy to credit the author or the platform, for instance, when you use them as illustrations for a blog post.
Where Can You Get Free Stock Images?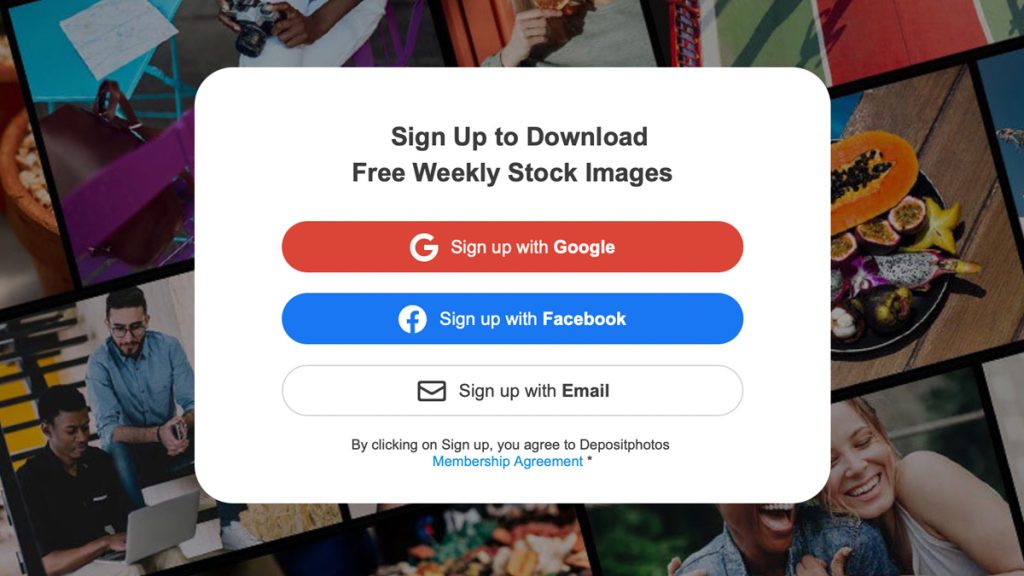 1. Depositphotos
Depositphotos is one of the biggest royalty-free stock websites on the market. It offers 230+ million high-quality files, including photos, illustrations, vectors, videos, and music. You can look for visuals using trendy collections, run an image search, and filter the results by type, date, orientation, color, number of people, location, or other parameters. The Reverse Image Search feature allows you to upload a reference file and look for licensed visuals in a similar style and color in the library.
The Depositphotos collection of free images contains almost 70,000 files. Visuals require attribution when used commercially, and you cannot create more than 50,000 print or digital copies of a single file. To avoid crediting the platform, consider downloading premium images after purchasing an affordable subscription or on-demand plan.
2. Burst by Shopify
Burst is a photo stock created and powered by Shopify. It offers thousands of high-quality visuals taken and contributed by photographers from all over the world. You can look for visuals using keywords or browse popular categories. The Business Ideas section allows you to find inspiration and free stock visuals related to different business niches.
All of Burst's photos are free for personal and commercial use and don't require attribution. You can download and modify the files and sell items made using Burst visuals.
3. StockSnap
StockSnap is an extensive library of appealing visuals updated daily. You can search for images using tags that allow you to look for pictures based on their category, mood, sense, or feeling that they convey. There are also image collections on different topics that make the search even easier.
All StockSnap's visuals are distributed under the Creative Commons CC0 license. This means they are free to download, modify, and use in personal and commercial projects. However, there are several restrictions. For instance, you cannot use a photo of a person to imply that they think your product or service is the best. You also cannot use such images in a way that depicts the portrayed people in a bad light. Selling downloaded images to other stock platforms is also forbidden.
How to Download Free Pictures from a Stock Website
Choose the stock you like and visit their official website.
Read the licensing terms to understand the conditions of free image usage, e.g., whether there's a required attribution.
Search for free images and use advanced search filters for precise results.
Select an image you like and download it.
To Sum Up
Photo stocks are a great way to save time and money, and quickly get free images for your personal or commercial needs. Nonetheless, you have to be mindful of the copyrights and always study the licensing terms to avoid legal issues. Reliable stock websites like the ones listed in this article always display the licenses they offer and the difference between the available types, helping you make the right choice for your specific project.
---