Bankruptcy in the USA: At times, it may appear as if filing for bankruptcy is your only alternative. Bankruptcy is not a choice to be taken lightly, even though we understand you can feel afraid and trapped. In order to make the best choice for your circumstances, it is imperative to understand exactly what bankruptcy in the USA is and its various forms.
Personal Bankruptcy: What Is It?
A bankruptcy case filed by an individual or married couple is called personal bankruptcy. A married couple filing together is referred to as a joint bankruptcy filing.
The two most prevalent kinds of personal bankruptcy are Chapter 7 and Chapter 13. Even though bankruptcy may remain on your credit record for up to 10 years, many people who file for bankruptcy find a significant improvement in their credit score within two years. Chapter 11 of the Bankruptcy Law also permits filing personal bankruptcies, although this is rare.
However, bankruptcy should only be considered a last resort after all other options are exhausted. Debt consolidation, credit counseling, installment loans for bad credit with easy approval, and talking with creditors are all viable alternatives to bankruptcy. These loans can help you pay your bills and may have better conditions than credit cards or payday loans. Before filing for bankruptcy, consider all your choices and speak with a qualified professional.
Main Types of Bankruptcy
In the United States, Chapter 7 and Chapter 13 bankruptcy are the primary bankruptcy options offered to people and organizations. While it is not as often utilized as Chapters 7 and 13, we will also discuss Chapter 11 with you.
Chapter 7 Bankruptcy
The most typical kind of bankruptcy in the USA is Chapter 7, commonly referred to as liquidation bankruptcy. It is accessible to both people and companies and entails the liquidation of assets to settle debts.
A trustee is chosen to supervise the sale of the debtor's non-exempt assets, such as real estate or investments, in Chapter 7 bankruptcy. The debtor's creditors are then each given a portion of the selling earnings to settle their accounts. Under Chapter 7 bankruptcy, the majority of unsecured obligations, including credit card debt and medical costs, are dischargeable.
Chapter 13 Bankruptcy
Only people may file for Chapter 13 bankruptcy, which is a reconstruction bankruptcy. It entails debt restructuring into a feasible repayment strategy. In Chapter 13 bankruptcy, the debtor offers a repayment plan to settle their financial obligations over three to five years.
The plan requires that payments be made out of the debtor's available funds. The remaining unsecured obligations of the debtor may be discharged when the plan is finished.
Chapter 11 Bankruptcy
While Chapter 11 bankruptcy is possible for single and married couples, it is not often listed as a personal bankruptcy option. Chapter 11 is generally utilized to aid in the restructuring of debt-ridden corporations.
A case in point is the bankruptcy from which GM just made a triumphant comeback. It is the only option for individual debtors with debt that exceeds the boundaries of Chapters 7 and 13. However, it is far more complicated, time-consuming, and costly than either Chapter 7 or 13.
A "new start," which is the ultimate goal of American bankruptcy rules, is finally obtained by many debtors via the automatic stay, which offers an effective if brief respite from foreclosure and other debt collection actions.
Other Forms of Bankruptcy
Chapter 12 Bankruptcy
Family farmers and those running commercial fishing operations may restructure their debt via a Chapter 12 bankruptcy without going through the pricey Chapter 11 bankruptcy procedure.
It functions similarly to Chapter 13 but has particular clauses to address the special circumstances of agricultural and fishing enterprises. The filer gets discharged from bankruptcy after completing the Chapter 12 repayment plan.
Recently, many companies have been forced to declare bankruptcy. 2020 saw the highest number of significant bankruptcies in the United States since the Great Recession's peak in 2009.
Banking, financial businesses, and real estate were among the most damaged industries at the time. However, as with the 2020 pandemic, bankruptcies affected a broad range of industries. There were 244 major enterprises with liabilities over $50 million that filed for either restructuring or full liquidation.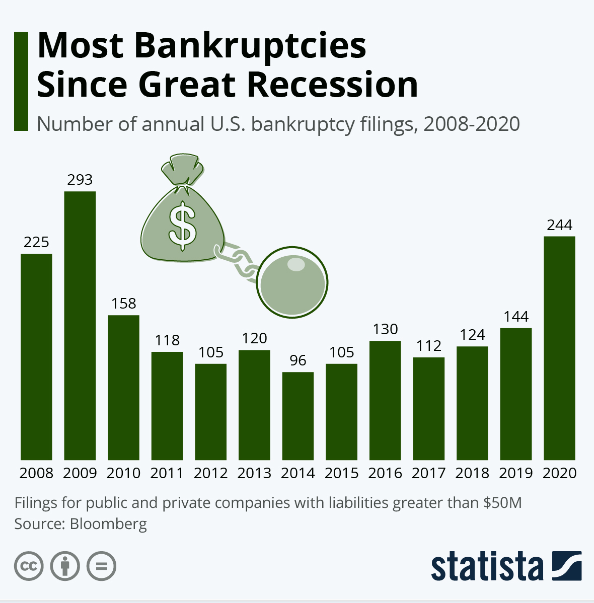 Chapter 9 Bankruptcy
Only municipalities, such as cities, towns, villages, counties, and school districts, are eligible for this sort of bankruptcy in the USA. An organization of debts is accomplished by a municipality filing for Chapter 9 bankruptcy.
Chapter 15 Bankruptcy
Foreign debtors may petition for bankruptcy under American law using Chapter 15, a relatively new kind of bankruptcy that has been around since 2005. The international bankruptcy rules given by the United Nations Committee on International Trade Law are essentially adopted in this chapter. Under this chapter, hardly many cases are filed each year.
You should speak with a lawyer specializing in this area to learn about each bankruptcy chapter's advantages and disadvantages and how they might impact your company or your personal estate. A professional will assist you in selecting the best method, depending on your needs.
Who Determines What Occurs After I Declare Bankruptcy?
A judge hears every bankruptcy case. Each U.S. has a bankruptcy judge. County Court. The bankruptcy court is a distinct court where bankruptcy judges sit. They exclusively take on bankruptcy cases as cases. The bankruptcy court is one tier under the US one. Hence, an appeal of a bankruptcy judge's order or decision proceeds to the U.S. District Court. County Court.
Conclusion
By eradicating or rearranging their obligations, individuals and corporations may start over legally via bankruptcy. It is a significant choice that shouldn't be made hastily and should only be taken into account after exploring all other possibilities. Chapter 7 and Chapter 13 are the two primary bankruptcy options accessible in the US.
While declaring bankruptcy in the USA may lower your credit score, it does not spell the end of your financial situation. After filing for bankruptcy, repairing your credit with time and work is feasible. It is crucial to speak with an experienced bankruptcy lawyer who can walk you through your choices if you are considering bankruptcy.
In the end, bankruptcy is a useful tool for those with financial problems who need a new beginning. You may utilize bankruptcy to recover control of your money and set out on the road to financial independence, provided you understand the procedure and work with an experienced lawyer.
---
Inside Telecom provides you with an extensive list of content covering all aspects of the tech industry. Keep an eye on our Insights sections to stay informed and up-to-date with our daily articles.