Environmental sustainability is the modern era's dragon, and Dubai's sustainable city is the country's latest attempt at slaying it. Sustainable urban planning is still receiving attention as a result of worries about climate change, renewable energy, clean air, and water.
The Sustainable City Dubai is another eco-friendly project added to Dubai in response to climate change. The objective is to create an autonomous community for upcoming generations.
What is a Sustainable City?
Sustainable urban planning lays the groundwork for creating a sustainable city with long-term livability in mind in urban projects such as Dubai's sustainable city.
Such a community strives to establish a sustainable lifestyle while reducing its carbon footprint, which calls for a change in preferences for sustainable waste disposal, transportation, and utility usage. Preservation, restoration, and renovation are the core traits of a sustainable city.
By implementing contemporary waste management techniques, irrigation, and lowering energy inputs, an existing city can be made sustainable. A community would be supported economically, socially, and environmentally by a sustainable city's qualities. Reducing, reusing, and recycling are the three pillars of a sustainable city. It is accomplished using a sustainable infrastructure that recycles trash and harvests energy from other sources that would otherwise be wasted or unused.
A sustainable city is one that uses less energy and has clean water and fresh air without compromising the quality of life for future generations with excessive carbon emissions.
Everything you Need to Know About Dubai's Sustainable City
Dubai's sustainable city is built from the ground up with fundamental sustainability at the core of its planning. Everything from the streets to the houses, parking lots, and amenity centers are integrated into a greater sustainability plan.
The entire point of building sustainable cities is to produce more energy than is consumed, and in that regard, Dubai's sustainable city takes the cake as no detail is left unaccounted for.
You can walk, take a bike or drive small electric golf cart-like vehicles that charge on electric charging stations, which, of course, are powered by solar energy, to get to wherever you are going within Dubai's sustainable city.
The streets are cooled by wind towers, and the buildings were constructed with the sun and temperature in mind, meaning they have good insulation from both the heat of the day and the cold of the night. All buildings are oriented towards the north, benefiting from the shade as much as possible, and are layered with UV reflective paint. All in all, residents will reduce their air conditioning costs significantly.
Clusters of villas are separated by parking lots. The parking lots are covered in solar panels, which both help to cool the ground and make use of wasted space that is often left unutilized and contribute to the heating of urban communities.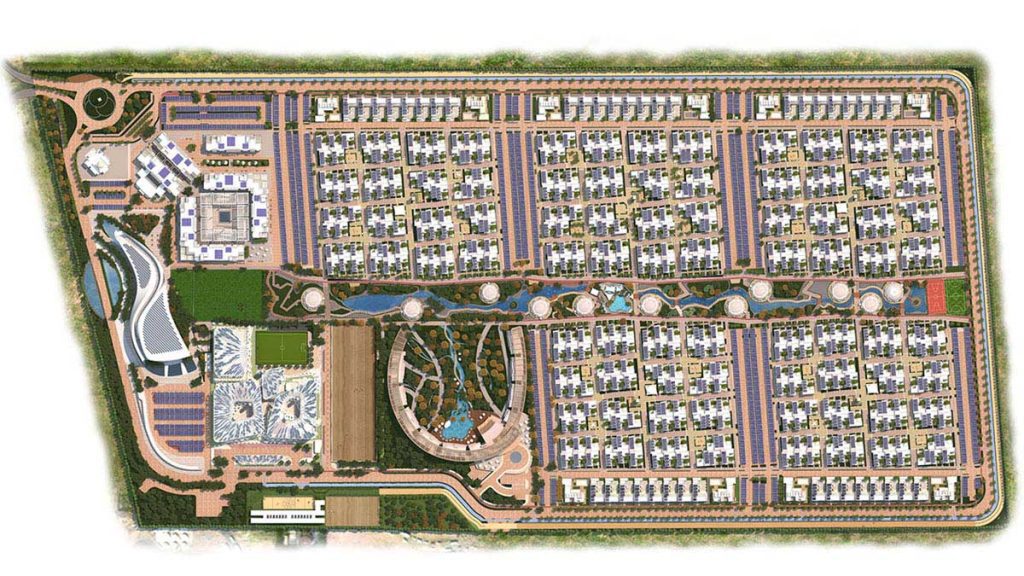 In Dubai's Sustainable City neighborhoods, there are wide streets, trails, swimming pools, farms, shops, and restaurants. That, coupled with the greenery planted in every feasible corner of the city, helps cool the atmosphere in the blazing Gulf sun, making it a more than decent place to call home. Iven that cars are only allowed in certain places, it's also a great place to raise children who can enjoy playing outside peacefully.
Between 25 and 30 kilowatts per hour of energy are generated by solar panels for each home. The households would avoid paying rising utility costs thanks to water recycling and solar energy production. Utility bills, as a result, would be 50% lower than usual. From a residential standpoint, living in Sustainable City Dubai is opulent and spotless.
So, How Much?
*Deep breathes*
Sustainable city apartments, while not really apartments in the conventional sense, come in a range of prices that can accommodate multiple income levels. But generally, they're not cheap, at least not for the average earner.
Villas and townhouses offered for rent in Dubai's sustainable city come in variations of three, four, and five-bedroom spaces. The average yearly rent for the three-bedroom villas in The Sustainable City is AED 180k (USD 49,000), while the 3,777 square foot 4-bed homes have a starting rent price of AED 195k (USD 53,000) per year.
According to the most recent postings by Bayut, a luxurious villa with 5,466 square feet of living area would cost AED 260k (USD 70,000) per year to rent. A 4-bedroom garden villa in The Sustainable City Dubai typically costs AED 280k. 3-bed townhomes for rent go for around AED179k (USD 48,000) annually, while the cost of a four-bedroom unit can reach AED 280k (USD 76,000) annually.
As for buying villas in Dubai's sustainable city, according to current listings, the price range for a 3-bed villa is between AED 2.7M (USD 735,000) and AED 3.1M (USD 844,000). A 4-bedroom house may be purchased for around AED 2.87M (USD 781,000), with more opulent alternatives costing as much as AED 4.6M (1,252,000). A five-bedroom villa in Sustainable City Dubai will run you about AED 10M (USD 2,722,500), and it can easily house a big family.
Final Words
While all the sustainable technology used within the city is not exactly revolutionary, it is an example of how these already existing and readily available technologies can be put together into a well-planned and cohesive urban setting that can act as a benchmark for future smart city sustainable development.
Many of the world's most sustainable cities simply utilize existing technology and integrate them into existing infrastructure, Cities such as Cape Town in South Africa, Copenhagen in Denmark, and Amsterdam in the Netherlands.
Dubai's sustainable city stands as an example of how newer cities, towns, compounds, and neighborhoods can be built sustainably from the ground up.
---
Inside Telecom provides you with an extensive list of content covering all aspects of the tech industry. Keep an eye on our Community section to stay informed and up-to-date with our daily articles.