From one crisis to the next: The pandemic, war in Ukraine, exploding energy prices, inflation, interrupted supply chains, and the constant threat of climate change. The telecommunications industry still looks robust, although the continued outlook for the economic situation in 2023 is uncertain. What will happen next? How, as a telecommunications provider, can I improve my resilience to future challenges? In this article, we have summarized some important tech trends for 2023 that promise stability and growth for telcos even in turbulent times.
1. Permanent Trend: Fiber Optics
In a business world marked for the long term by the pandemic, global market demand for fiber optics is growing more than average, and it also promises attractive profit margins. Fiber optics is shorthand for a fast, reliable internet, which provides the foundation for many business processes at companies and the accompanying networking such as home office activities. Added to this is the ever-increasing operation of data centers. Future technologies, such as the Metaverse and high-resolution films, will require ever-higher broadband speeds.
To reduce the complexity of a FTTH project for telecommunications providers, it is a good idea to pay attention to the perfect technical functioning and compatibility of the products used with one another. For marketing, a scalable online portal that addresses the complete life cycle of fiber optic expansion in an expansion region up to and including regular marketing can help. Previously manual processes are automated, and customers and employees provided with information such as expansion status, order status, and prices in real time. However, especially in Germany, the expansion presents a few challenges since an entirely new infrastructure must be built since there is no existing expansion status to build on. As a result, unfortunately the provision of 100% coverage will take a few more years.
2. Net zero cloud
The awareness of climate change and the current energy crisis have become almost mainstream in winter 2022. B2B and B2C customers select a telecommunications provider based on ecological and energy-efficient criteria, which, of course, should also go easy on their wallets. Pressure to adapt the telecommunications industry, its products, production methods, and corporate cultures, is therefore increasing constantly.
Using software and IT infrastructure directly in the cloud gives telcos a decisive competitive advantage. Highly efficient data centers with state-of-the-art IT and advanced cooling systems require much less energy. Purchasing electricity from renewable energy sources also ensures that no climate-harming emissions are generated. The market research institute Gartner estimates that global end user expenditures for public cloud services will increase by 20.7% in 2023, to $591.8 billion, as compared to $490.3 billion in 2022. Previously, no one paid much attention to whether the applications in the cloud were "net zero." There are no metrics for determining what the carbon footprint of a Netflix film is, for example.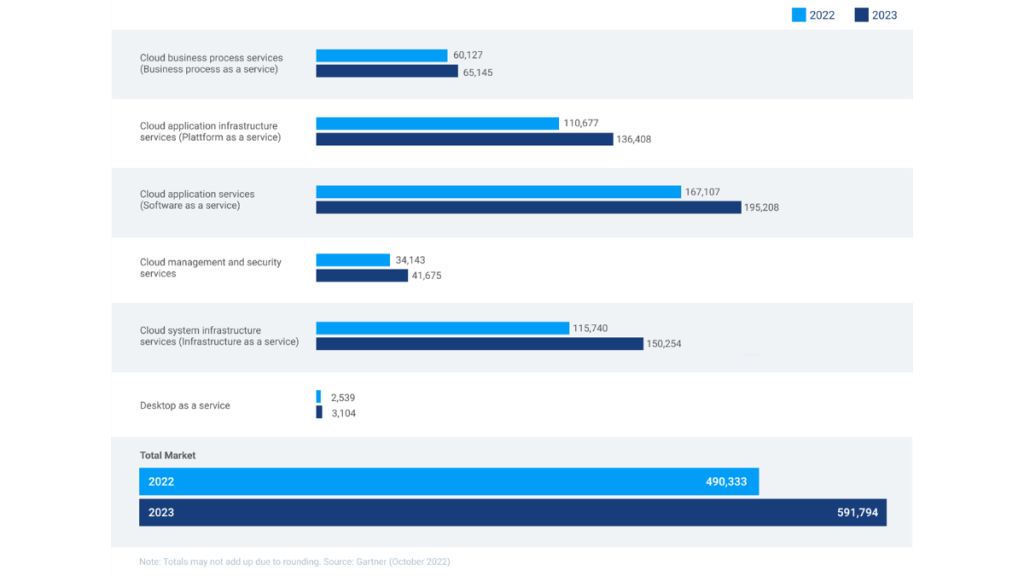 3. 5G
As critical infrastructures for a company, telecommunications networks must ensure stability, with higher speed and greater reliability, especially in times of crisis. 5G, the fifth generation of mobile communications, makes it possible to transmit mobile data still faster – up to 100 times faster than with the predecessor LTE. Furthermore, the technology is robust and reliable.
Especially in Germany, where 5G is not yet available to most consumers (who would especially like to use 5G for videos and games), we believe the 5G market will shift toward corporate customers. Companies are implementing ever-more-complex programs and applications to digitalize their core processes. Many of these new applications are cloud-based and require higher data transmission speeds. Examples are IoT providers, such as the multinational Tier 1 IoT carrier 1NCE, or DISH Wireless in the USA, which among other things are operating wind parks and fleets of company cars in the B2B sector.
In order to be in a position to provide innovative 5G stand-alone services for corporate customers, telcos can deploy a cloud-native flexible, scalable network. The advantage: Since the applications are developed "natively" in the cloud, from the very beginning they exploit the benefits of cloud computing, and they don't have to be retooled or migrated first. An ideal solution for companies that must constantly enhance or adapt their IT environments anyway.
And thanks to its intelligent energy management, 5G is climate-friendly too: Large quantities of data are transmitted reliably in real time (no more cables!); new applications are possible; digitalization can be used more efficiently; telco networks unburdened; costs, energy consumption, and thus CO2 emissions reduced. All this is optimized thanks to the connection of 5G with machine learning algorithms, ideally supported by "machine learning operations" (MLOps), structured processes fit for the future and for the development and operation of machine learning solutions. One example: With predictive maintenance, telecommunications providers can increase the efficiency of their network operations, identify errors, and predict future sources of faults. Preventing an IT breakdown is thus much easier.
4. Infrastructure-as-Code
When extrapolated to servers and end user devices on a global level, each individual line of code has the potential to reduce energy consumption and emissions. This also works with mobile communication networks. With infrastructure-as-code, in the future there will only be base stations that are connected to provider networks via fiber optic cables. The rest of the technical infrastructure, such as controllers and databases, will be shifted to the cloud as software. This way, the time-consuming process of developing and providing infrastructure will be much faster, more flexible, easier to modify and administer. Here, the infrastructure will be managed in one or several files instead of configuring resources such as a virtual machine, a security group or a network interface manually in a user interface. In addition, scripts make it possible to restrict active internet connections at certain times (e.g., at night) by shutting down the integration infrastructure, thus reducing energy consumption.
5. Function-as-a-Service
Just calling up what's actually needed is sustainable and reduces costs: Serverless cloud computing, which makes this possible, is called Function as a Service (FaaS). The telco provider makes functions available to its customers; these are invoiced precisely to the second. Payment is per execution. The actual infrastructure in the background plays no role and is not visible to the end customer. Many popular programs and apps already use FaaS; one of the best known is Amazon's Alexa.
6. Data-driven – From Guessing to Knowing
Customer data is extremely valuable to telcos. Today, consumers expect a personalized, context-related customer experience. Differentiation from the competition exclusively via standard offerings is no longer possible. In order to make use of existing customer data while complying with the GDPR, telcos rely on AI (artificial intelligence), for of course the millions of pieces of data cannot be aggregated for marketing purposes by hand, but only using appropriate algorithms. AI technology is in a position to prepare customer data so that it is GDPR-compliant in order to use it to generate a personalized customer journey.
7. Standardization
So that telcos can converge on a common goal for their customers, it is important to encourage cooperation with partners and competitors by exchanging knowledge and experience. The point is to avoid using proprietary technologies that are incompatible with those of competitors and thus creating a vendor lock-in.
The search for a blueprint leads to the selection of the Open Digital Architecture (ODA) or the TM Forum. Standardized components and APIs that completely address a telco service provider's software stack enable quick development of new business capabilities and thus support the urgently required replacement of legacy systems. In addition, the complete definition of the protocols required for network operation in software reduces the entry hurdles for new providers. Hyperscalers provide the computing power required for this, which can be adjusted dynamically to the resources needed and requires no individual investments in this sector. Benefit for the telco provider: Thanks to the numerous standards, e.g., in CRM, which ensure greater transparency, well-known software providers' price spiral can no longer continue upward at will.
8. Low Code/No Code
In order to significantly reduce market launch times for new products, apps, or business models, some telecommunications providers are already relying on the agile LCNC technology (LCNC: Low Code/No Code) – and this not only for the front end, but most recently also for back-end integrations. LCNC development platforms are designed so that they exploit the possibilities of application development for all users across the company who are familiar with the processes and workflows within their department (even without programming experience). In visual software development environments, application components can be shifted or networked with drag-and-drop, and it's easy to create mobile or web applications.
The advantages are clear: In addition to faster software creation, which reduces costs, professional developers in IT departments are relieved of banal programming tasks. In addition, the consistent orientation of the apps toward business ensures more innovation. At the same time, an ecosystem of innovators is cultivated in the specialized department, and IT specialists (internal or external) who always keep a strategic eye on the big picture and therefore generate true added value.
Conclusion
Technical progress and digitalization are the only answers to the many and varied challenges telcos are facing today. They increase the ability to withstand crises of all kinds and at the same time ensure that CO2 emissions and costs are reduced. So that 2023 will be a good year for telecommunications providers, managers should dare to make more investments in resilient infrastructures and keep an eye on innovations. However, the speed with which digitalization is changing the rules of play can frequently only be used profitably in cooperation with an IT service partner, since most companies are lacking their own expertise. External expertise can help formulate a digitalization strategy custom-tailored for the needs of the telecommunications provider.
---
About the Authors
Steven Bailey – AOE GmbH, Chief Strategy Officer
Steven Bailey has many years of experience and expertise in the digital transformation of international companies and the development of their business and IT visions. As Chief Strategy Officer at AOE, he is responsible for business development and customer support in the digitalization and omnichannel E-commerce strategies sector. A focal point of this work is the development of B2X transaction portals and mobile solutions that allow companies to map new business models and generate long-term revenue streams. In addition to learning programming languages, AOE Academy offers developers the opportunity to acquire conceptual knowledge in an agile environment.
The customers they support include the entire spectrum of industries – from large and retail companies to telco, aviation, automotive, and industry, on through to life science. The native British citizen has more than 20 years of experience in international brand communications and has received numerous corporate design prizes. Bailey is also responsible for the idea and concept of the recently published telco trendbook "4 Steps to composable business."
---
Stefan Rotsch – AOE GmbH, Solution Architect Telco
Stefan Rotsch has many years' expertise in the development and architecture of complex web applications. As a Solution Architect at AOE GmbH, he analyzes and designs software projects in the telecommunications sector and assists customers and development teams from conception to the successful go-live. He is also a successful speaker sharing his experience in agile software development for various talks at conferences and bar camps.
---
Uwe Ritter – People at Work Systems AG, Executive Board and COO
Uwe Ritter can look back on more than 35 years' IT experience. After completing his computer science degree in Ulm in 1983, he worked for two years as a development engineer at Dornier System GmbH in Friedrichshafen. After that, he joined Nixdorf Computer AG in 1985; he remained there in international marketing for Unix systems and as Director of the international Targon support until 1990.
From 1990 to 1996, he built up the technical marketing department at Oracle Deutschland GmbH. In 1996, Uwe Ritter was a founding member of Siebel Systems Central Europe. During his first years there, he was responsible for establishing sales support and marketing – activities; then he took on various management positions in Siebel product marketing and was finally responsible for Siebel's entire technology basis as Executive Director. At the beginning of 2004, Uwe Ritter joined People at Work System AG as shareholder and chair. He is responsible for the areas of products, consulting, and development.
---
Inside Telecom provides you with an extensive list of content covering all aspects of the tech industry. Keep an eye on our Insights sections to stay informed and up-to-date with our daily articles.